Ecotourism in Occitanie
Nature Occitane is a local agency based in Southern France. We are a small team of local guides, passionate about our lives and jobs in nature: hiking, walking with donkeys, mountain biking, trail running, bicycle touring, kayaking, climbing, canyoning…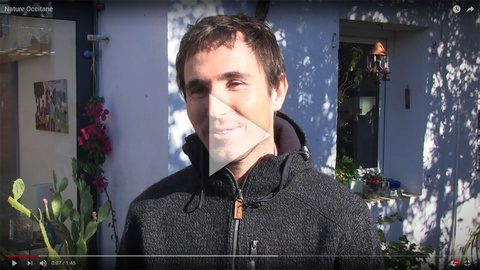 Artisans of Travel

All of our holidays have been created by us. These criss cross the region, offering you trips adapted to all levels of experience and fitness. As for accommodation, some trips use simple rural gîtes whilst others offer nights in converted châteaux. We are committed to spreading the principles of ecotourism in the Cévennes and the Aveyron.

The Cevennes, an exceptional natural environment

Thanks to its geographical position in the South of the Massif Central, our region is rich in contrasts. On one hand we have the Aubrac – a landscape of soft, rolling hills, reminiscent of Ireland, and on the other, a strong Mediterranean influence with cicadas and fragrant vegetation. Our territory includes the Natural Regional Park of the Grands Causses and the National Park of the Cévennes. We continually explore new frontiers and love the adventure of trekking from one place to the next. We regularly venture further afield to take you to the garrigues of the Haut Languedoc or Corsica.

Nature, terroir & ecotourism

With the leisurely pace of non-motorized trips, meetings with local artisans and shepherds, river swimming and good meals, we allow you to escape from the modern world and live for a while in harmony with nature. At the end of the day, your efforts are rewarded by authentic accommodation and a delicious dinner. We believe in a tourism that respects the natural environment and is oriented towards the locals, their customs and their produce. By travelling in small groups, we also want to help support the local people in their way of life.

Experienced professionals

All our activities are supervised by professionals living in their respective regions. On all counts this is a winning formula for successful travel: no one else is better suited to helping you discover and truly experience the region, its culture and its traditions.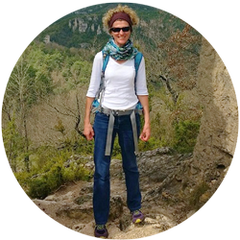 Sarah

Nature Occitane guide

I first discovered the Cevennes in 1993 when I worked here for an English tour-operator, managing their walking holidays in the region. Over the following years I worked in some beautiful corners of Europe but my heart always remained firmly anchored in the Cévennes. Finally, in 2002, I bought a small house in a secluded cévenol hamlet and shortly afterwards, settled here definitively. I then undertook several years of training to become an 'accompagnatrice en montagne' or mountain leader. I took advantage of this period to discover other mountain ranges of France, including the Pyrenees, the Southern Alps and the Jura. These years were a rich source of new knowledge and skills and brought me in contact with many fascinating and inspiring people. I now consider myself very lucky to live and work here in the Cévennes, where I never tire of sharing with others the many delights of the region.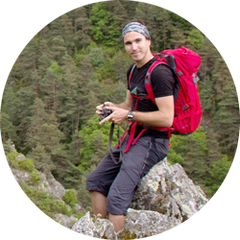 Guilhem Vabre

Guide & founder of Nature Occitane

The mountains surrounding the town worked their magic and a year later I started training in the Vercors as an 'accompagnatrice en montagne' (mountain leader). This training took me to the Pyrénées Orientales, le Pays Cathare, then Corsica where I qualified with a Brevet d'Etat d'Accompagnateur en Montagne as well as for mountain biking. After a period in Equador, then in Iceland, I started working for the French tour-operator Atalante, specialized in trekking. For 4 years, as well as my roles in sales and production, I accompanied groups of walkers and trained local guides across the world. This experience was rich in both a professional and personal sense. Lots of travel, encounters, learning... without ever forgetting the « land of my green years » (in the words of Brassens). I have always remained strongly attached to my home region and I wanted to find a meaningful project that would allow me to come back. Since the creation of Nature Occitane in 2013, my wish has been to share my region with you: its most beautiful footpaths, its wild landscapes and the people that have chosen to live there. I invite you to savour their delicious produce, to discover their way of life, to listen to their stories and their musical accent of the midi. Living in Toulouse since 2015, I now also invite you to discover the Canal du Midi and the Pyrénées.I look forward to seeing you soon!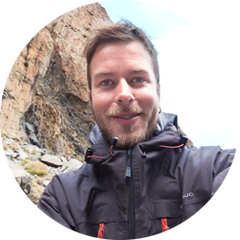 Jérôme

Nature Occitane guide

I live in a Caussenarde farm in a village of 600 inhabitants, set in the heart of the Causse de Séverac, where I was born. Agricultural school and a degree in environmental studies revealed my passion for nature and the desire to share this. This is why I chose the profession of 'Accompagnateur en Montagne' (mountain leader) and turned towards eco-tourism. Alongside this activity, between December and March I head to the plateau of the Aubrac, where I work as a nordic 'pisteur secouriste' (ski patrol man) in the Laguiole ski station. In the spring I criss cross the region of the 'Grand Causses' always curious and keen help others discover its most beautiful landscapes. By the autumn it's time for a pause and the ideal occasion for me to travel to discover different people, landscapes and cultures. Peru, Nepal, the United States, Morocco, Tanzania: trips full of new learning and rich on a human level. The rest of my time is spent at home woodworking, gardening or looking after my donkey and bee hives… Let's set off together, at your own pace, to discover the Grands Causses and the Cévennes. Let's take the time to listen, observe and meet the animals, plants and people who make up this exceptional land…

Let's keep in touch!